Malaysian shophouses continue to be the mainstay of the real estate market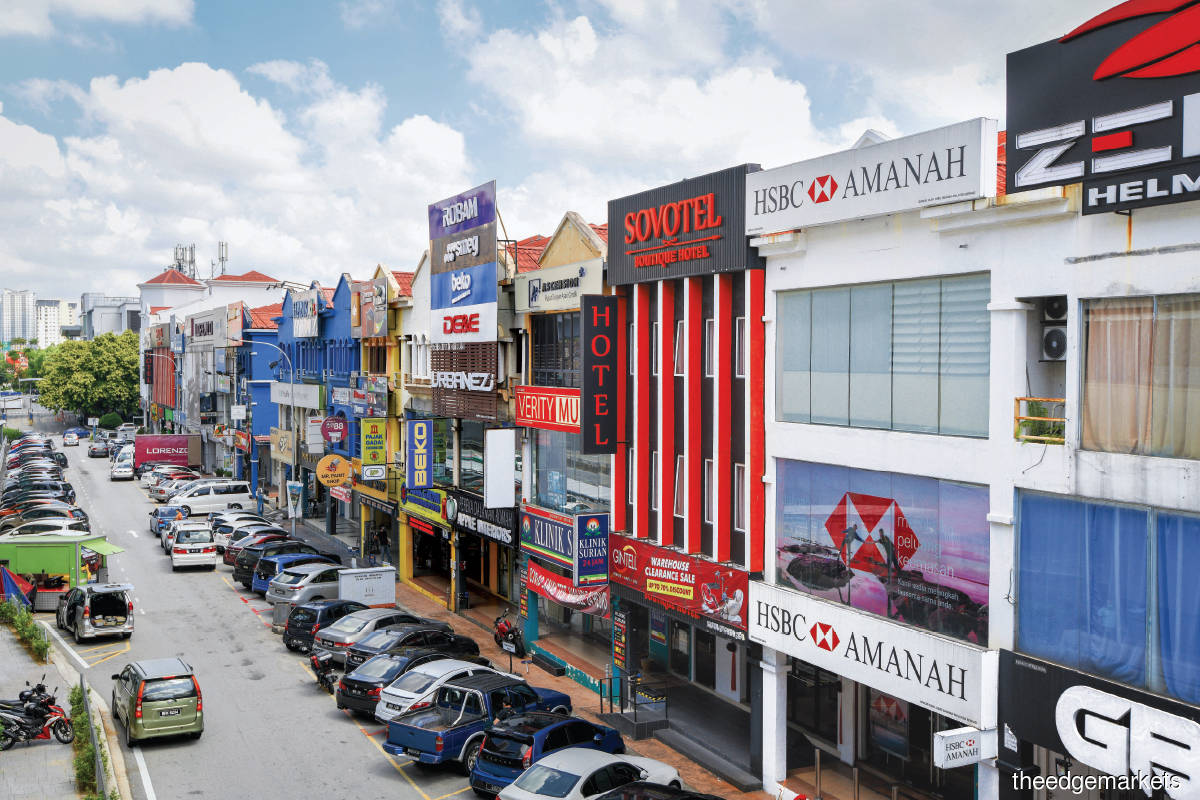 The traditional 2 storey store is ubiquitous for most Malaysians as it is found in smaller towns and even in Kuala Lumpur. Over time, the humble structure has evolved and now serves more than its original purpose.
"Traditional shophouses in Malaysia were first built around the 18th or 19th century with the arrival of immigrants from China, and provide an architectural form that allows occupants to combine commercial activities and a place of residence", explains Henry Butcher Real Estate Sdn Bhd Chief Operating Officer. officer Tang Chee Meng.
Normally, the lower level is used as an "office" or place of business, with a kitchen at the back that opens onto an alley, while the upper level is the designated residential space for the owner's family, explains he.
Raine & Horne International Zaki + Partners Sdn Bhd Associate Director James Tan agrees, pointing to an undergraduate thesis published in 2017 (by Ashley Wagner, titled "Malaysian Shophouses: Creating Cities of Character") to highlight how the shophouse has become a symbol of a slowly disappearing culture and way of life in Malaysia. Tan points to these comments from the thesis:
"Chinese immigrants brought the style of building from their homeland to the peninsula, but blended with environmental idiosyncrasies, local culture and European colonial presence, it transformed to create a truly unique vernacular. A vernacular that is rapidly disappearing in the forest of towering skyscrapers that have taken over the cityscape of Malaysia's urban fabric. This represents a great loss of cultural identity and contributes to the perception of the decay of societal values ​​in an increasingly rapidly developing country. In a world where 70% of the world's population is predicted to live in cities within decades, having diverse and culturally relevant cities is a compelling concern.
The decision to build other types of properties without considering shophouses is something the CEO of Rahim & Co International Sdn Bhd estate agency Siva Shanker believes developers should reconsider.
"People don't build the right things. They're chasing money, resulting in a huge oversupply of serviced apartments, hotel rooms, offices and malls, but shophouses are good investments. That's because they don't fly high during the good times, but they don't crash or burn during the bad times either," he explains.
Traditional shophouses are rarely built now, having been replaced by more modern versions. According to Lim Lian Hong, Executive Director of Raine & Horne International Zaki + Partners, "The traditional shophouse has an air shaft. At that time, due to the requirements of the Public Health Act, an air shaft was needed to help with ventilation and because people lived there, you couldn't confine them in a confined space without an air shaft because there was no air conditioning at the time.
Lim notices that the modern shophouse now has a taller build with the removal of the air shaft requirement and that many traditional shophouses have been retrofitted to conceal the air shaft.
Henry Butcher's Tang points out: "Shophouses have evolved to be three to four stories high, some incorporating apartments on the upper floors while others transform the upper floors into offices. This later evolved into hybrid offices that rose beyond five stories and had elevators for easy vertical access.
The transformation also did not escape the attention of Siva of Rahim & Co, as the subsequent construction of shops changed to offices with a higher plot ratio and more floors, elevators, security and of charges. Before long, he says, the area becomes a commercial hub.
Location trumps competition
Property experts see no rivalry between traditional and modern shophouses.
Tang observes, "I don't see this as a competition between traditional and modern boutiques. Good and bad shophouses are differentiated by factors such as location, accessibility, visibility, market size and profile, availability of parking spaces, and proximity to transit hubs.
He also points out that some stores have layered to allow multiple ownership for different floors.
"In a later adaptation, the shops were integrated into the podium blocks of the high-rise residences and accessed by common covered parking spaces located in the basement or surface car parks in the areas surrounding the building. [Also,] store depths and ceiling heights have been reduced to accommodate modern conveniences such as air conditioning and firefighting requirements.
Additionally, Tang points out that modern shophouses are now governed by building regulations that have resulted in designs "better suited to meet the modern needs of business and living." However, compromises were made, leading to lower ceiling heights and the removal of the need for air shafts and inner courtyards, thus making these modern shophouses "not as refreshing and as well ventilated as the old traditional ones" .
Lim also observes that shophouses primarily compete with their location. Those who have been in mature areas for longer tend to perform better than those who are in a newer location. He points out that it takes time not only for shophouses in a new area to gain traction, but also for surrounding areas to reach a sizeable population that can sustain businesses moving into shophouses.
Siva agrees that a viable population plays a big role in the success of shophouses.
"If you build shophouses in local communities, they will thrive. This is because the local community will rent the ground floor and the smaller local offices will rent the upper floors.
"You will always have a market because in every economy in the world, SMEs (small and medium-sized enterprises) are the engine of the economy."
Siva adds that shophouses provide opportunities for SMEs to do business, but at a sustainable cost. "They may be at the bottom of the scale, but play an important role because it is from them that SMEs will operate."
He adds that building more shophouses and renting out space, for example, to illegal roadside vendors – who currently pay no taxes and use public space for free – will improve the value of shophouses and will thus provide a stable investment property. Due to good returns on investment, owners will be encouraged to invest in other properties which will keep the wheels of the economy turning.
Advantages and disadvantages
As with most things, both traditional and modern shophouses have their pros and cons.
For Raine & Horne's Tan, the benefits of a traditional shophouse include more floor space, unique appearance and design, good ventilation in an energy-efficient heritage structure, and location in prime areas.
However, he points out that the downside could involve higher maintenance costs and the difficulty of replacing materials used in shophouses, especially materials not commonly found. Also, the frame of the building can be made of wood which could attract termites; and while the design may look good, it may be a turnoff for the younger generation, who want a more modern look. Additionally, it may struggle to maintain its market value over time and most have very limited parking.
Meanwhile, the benefits of a modern shophouse could be said to include lower maintenance costs, a simple design (easier to renovate), an updated look that appeals to the younger generation, and more parking spaces. .
Additionally, Lim points out that modern shopping areas provide better security, which in itself has advantages and disadvantages. Usually secure areas have paid parking, which many don't like, as private parking can be expensive.
"People don't want hassle; they want ease and convenience, and those kinds of requirements for shopping and dealing with their services. They don't like inconvenience," Lim says.
"However, security is good for occupants to protect against petty theft and burglary. If you are completely open [without security], thieves can just walk in like they would a 24-hour convenience store. If there's security, thieves will think twice. It's a deterrent. Security may be good for the store owner, but not so good for the customer. »
While the pandemic has made things difficult for the shophouse market, property experts are optimistic about its longer-term performance.
"Besides business owner end users, shophouses also appeal to investors attracted by the good returns in terms of rental yields and capital appreciation. The market outlook for traditional and modern shophouses appears to be impacted somewhat in the short term by the slowdown in activity caused by the Covid-19 pandemic, but should improve and remain buoyant in the medium to long term," says Tang.
Lim agrees. "On the side of the optimists, the pandemic situation is temporary. The population is still there and they still have their needs. You need food and drink, services such as accounting and hairdressing; basically, employment… people need to work. All of this means there is a place for shophouses. But there may be a reduced need due to the impact of Covid-19 on businesses, as some have had to close.
In summary, shophouses – modern or traditional – continue to play an important role in the real estate market, which ultimately impacts the country's economy.