Northeastern city tries to quickly warm up cooling real estate market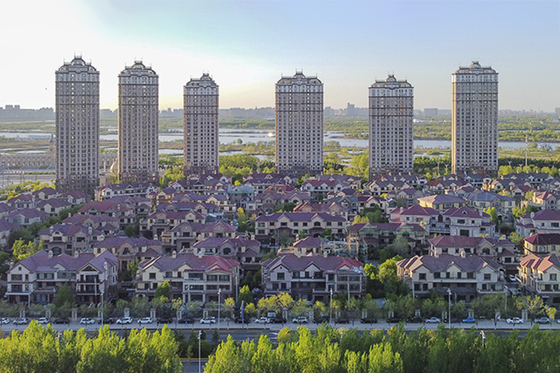 Regional authorities in China are signaling they want to stabilize rapidly cooling property markets, as a northeast city took steps to ease developers' liquidity problems and support demand.
A series of measures issued by Harbin, capital of Heilongjiang province, aims to promote the "stable and healthy development" of its real estate market, a local public information site reported (link in Chinese) Saturday. The measures entered into force on October 1 and will last until the end of next year.
The Chinese real estate market has experienced sales slide and some large developers are facing a liquidity crunch due to their aggressive expansion and regulators' deleveraging drive. Analysts said the steps taken by Harbin could augur similar actions by other local governments.
Harbin's measures include easing restrictions on cash from developer pre-sales.
In China, income from real estate presales must generally be deposited in accounts overseen by regulators as an anti-embezzlement measure. Developers can apply to withdraw the money in phases as construction of the property progresses. Harbin has decided to increase by 20% the amount that developers can withdraw in each phase under certain conditions. The government has also ordered lower-level authorities to support real estate companies' sales promotion campaigns.
On the demand side, the Harbin government has decided to offer subsidies to some first-time buyers, with up to 100,000 yuan ($15,540) offered to young university or vocational school graduates. .
The adjustment of Harbin's real estate policies shows that the government is actively reacting to the cooling market that has been disrupted by the crisis of some developers, wrote Zhu Jin, real estate analyst at China Securities Co. Ltd. a note (link in Chinese).
More local governments are likely to take action to ease developer liquidity pressure and support demand, Zhu said, but he said the national policy stance would not change.
Since last year, regulators have stepped up efforts to defuse the real estate sector's debt risks, including setting caps on financial institutions' lending to the sector. Partly as a result of reduced access to finance, some real estate giants, including China Evergrande Groupentered into crisis, sending shock waves through the market and panicking investors.
Read more

Caixin's coverage of the Evergrande debt crisis
To stabilize the market, some local governments have asked developers not to lower prices too much. Local governments in at least seven cities – including Yueyang in Hunan province and the cities of Tangshan and Zhangjiakou in Hebei province – have held discussions about the matter with real estate companies or set limits on discounts, according to analysts at real estate data collector China Real Estate Information Corp. written in a report (link in Chinese) at the end of last month.
Contact reporter Guo Yingzhe ([email protected]) and editor Joshua Dummer ([email protected])
To download our app to receive news alerts and read news on the go.
To have our free weekly Must-Read newsletter.
You have accessed an article accessible only to subscribers
SEE OPTIONS